01-15-2020, 04:28 AM (This post was last modified: 01-15-2020, 04:36 AM by SteveJabba.)
More tortious interference, this time by an obvious SJW called  Nandini Jammi.  She has complained about Stefan Molyneux on Twitter and Mailchimp have responded by immediately terminating Molyneuxs account.
Definition of tortious interference : 
Quote:

Tortious interference

 is a common law 

tort

 allowing a claim for damages against a defendant who wrongfully interferes with the plaintiff's contractual or business relationships. See also intentional 

interference

 with contractual relations.
The reaction on Twitter has been resoundingly negative for the tortfeasor Nandini Jammi and Mailchimp and is generally on the side of Stefan Molyneux.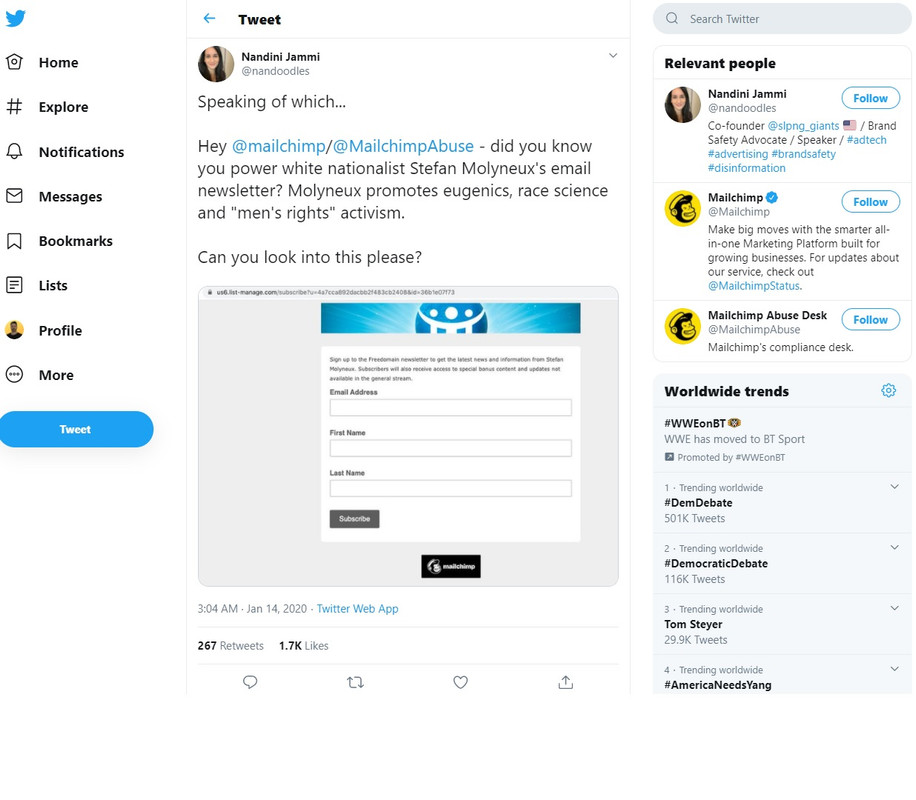 The SJW tortfeasor Nandini Jammi reporting Stefan Molyneux to Mailchimp. 
Mailchimp immediately terminated his account.
People like Nandini Jammi are the cause of the rapidly escalating cancel culture. Word is spreading about this case, so let's hope Mailchimp is the next cowardly converged enterprise to get woke and go broke.
Do you actually want to make progress with your goals : aesthetic, business, women, fitness?  

Check out the Secret Society VIP Members Club.
Check it out